Apartment in Murcia, Costa Calida, Spain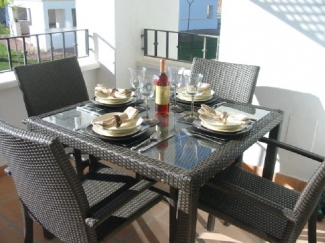 This holiday apartment on the Costa Calida in Murcia is not available to rent at the present time so we suggest you visit Vaargo where you can use their free holiday villa and apartment matching service to find your holiday home.

The Apartment is 20 minutes away from Mar Menor, the largest salt water lake in Europe. Mar Menor is often called "the largest swimming pool in the world". Your holiday can be full of activities, yet after all your days activities, you can retreat to your luxurious, well furnished apartment set below the mountain ranges of Murcia. You have the best of both worlds, either relax around the pool within your tranquil & peaceful modern Golf resort location or join the locals on the beaches of either the Mar Menor or the Mediterranean seas.

Your apartment is catered for you with a great holiday in mind, it has all the modern facilities you need, there is even a mini supermarket and a bar on the Golf complex. Beach Holiday, Pool Holiday, Golf Holiday, Chill out Holiday or everyone of them, you have the choice!